Chinese Medicine
FOOD THERAPY
---
Bring the wisdom of Traditional Chinese Medicine into your kitchen, your life, or your clinical practice.
---
Dietary therapy, or "food cures" (Shi Liao) is an important component of Traditional Chinese Medicine. In this course, you'll learn the principles of this ancient dietary theory and how to use it for yourself!
When you learn to personalize your diet based on constitution and energetics, chronic conditions can be alleviated, energy is restored, and long term health is bolstered through prevention.
All foods have temperatures, flavors, therapeutic actions, and a direct impact on certain organs. When these qualities are understood and used, food can be therapeutic and can create balance and wellbeing.

The energetic theory of Traditional Chinese Medicine Food Therapy can be applied to all food - including modern western diets. When you use the energetics of food you can optimize your health, as well as the health of your family and community.
This program is rooted in the simple concept that food can be used as medicine. When you integrate this knowledge it will nourish you on all levels of your being; physically, emotionally, mentally, and energetically.
FOOD = Healing Medicine
---
---
CLICK THE MODULES for a DETAILED OUTLINE Learn through pre-recorded instructional videos, kitchen demos, and detailed downloadable and printable workbooks and handouts. Go at your own pace, and get access to all updates for the lifetime of the course.

---
JOIN TODAY - REGISTRATION OPEN
---
Pay-in-full or use a convenient payment plan
We take all major forms of payment and we use secure checkout 🖤

MEET YOUR GUIDE
---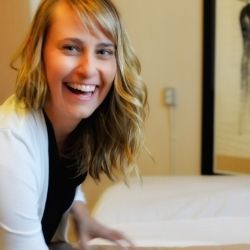 JENNIFER RAYE, R.TCMP, E-RYT 500+
LICENSED TRADITIONAL CHINESE MEDICINE PRACTITIONER AND HOLISTIC NUTRITIONIST
Jennifer Raye holds a doctorate in Traditional Chinese Medicine and is a licensed practitioner, acupuncturist, and herbalist. She is also a holistic nutritionist, published author, and an experienced yoga and meditation teacher.
Jennifer's offerings reflect her extensive and varied expertise in the fields of holistic and integrative medicine. In addition to her decade-long practice of Chinese Medicine, she has studied and practiced western phytotherapy (herbology), cleansing and detoxification, and Holistic Nutrition for nearly 20 years. She has studied functional medicine with The Institute for Functional Medicine and had the honor of studying holistic nutrition with Paul Pitchford (author of "Healing with Whole Foods"). Jennifer's background and training create a learning environment that is deeply informed and instructive.
Jennifer's teachings emphasize true self-care and a deep respect for the beauty and magic of the natural world. She has worked with thousands of students and clients all over the world, and teaches classes, retreats, and teacher training, locally and internationally. She has also been faculty at a number of educational institutions in addition to running her private medical practice.
For more info about Jennifer visit: jenniferraye.com
FREQUENTLY ASKED QUESTIONS:
---