SEASONAL SUPPORT AND SELF CARE
Spring
Spring is a such a wonderful time for a fresh start. Just as the buds burst through the ground, and the trees start to open, so do we!

I've seen time and again how simple practices and habits can transform health and increase wellbeing. And when you create regular seasonal habits you see the best results.
I created this course to guide you in nurturing your own self care as we move through the season of Spring.
I hope you'll join us in exploring the energetics of the season.

---
---
HOW IT WORKS:
When you sign up you'll get immediate access to:
7 self care lessons and practices in the form of audio meditations and yoga practice videos
A short workbook with written reflections
Lifestyle and diet suggestions to harmonize with the season.
7 Daily inspiration emails bringing you thoughts and reminders of how to attune to the season
Access to the Self Care for Spring online portal
You'll receive seasonal self care practices that you can easily integrate into your daily life.
Use the practices at your own pace.

---
---
I definitely don't have all the answers to make things perfect. But spending a few moments every day to take care of yourself and connect with the turning of the seasons can be a very profound first step.

---
---
REGISTER:
After you sign up you have immediate access to all of the lessons. You can use the practices at your own pace or follow along with the emails that are sent for 7 days after signing up.
MEET YOUR GUIDE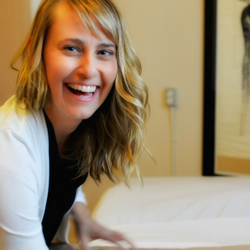 JENNIFER RAYE
Jennifer Raye holds her doctorate in Traditional Chinese Medicine and is a licensed Traditional Chinese Medicine practitioner, acupuncturist, holistic nutritionist, and ERYT 500 (experienced) mindful yoga and meditation teacher qualified to lead teacher training. Her extensive medical background as well as her long term, and dedicated passion for health, creates a learning environment that is deeply informed and instructive.
Jennifer maintains a private medical practice and has been faculty in yoga therapy teacher training programs, as well as a number of educational institutions including Pacific Rim College of Integrative Medicine. She currently teaches a number of ongoing classes, retreats, workshops, mentorships, and teacher training, related to nutrition, functional medicine, Chinese Medicine, yoga, and mindfulness.
Jennifer has worked with students and clients all over the world. Those who work with Jennifer appreciate the warm container she provides which supports deep physical, emotional, and spiritual well being.

For more info about Jennifer visit: jenniferraye.com
Questions?
You can sign up for Self Care for Spring anytime. After you sign up you'll be sent a login where you can access the course from your day of your enrollment. You'll have access from the date you sign up for 3 months.
Inside the online portal, you'll find audio, video, and reflection practices along with a short workbook
Yes! You'll have access to all of the practices for 3 months after your purchase.
This course is not open for enrollment.