LIVE ONLINE
Spring Cleansing Workshop

---
with Jennifer Raye - April 24th 2021 (replay available)
---
Simplify, Purify, & Prepare for Spring and Summer
Something vigorous is coming to the surface - it's the stirring of spring!
Early spring is a time when we can feel heavy, unmotivated, and congested. In Ayurveda, we call this "kapha". In Chinese Medicine, we think of this quality as a kind of stagnation and "dampness".
Over the winter, water and earth have been accumulating in the body and the digestive process has been slower. This stagnation can build up leading to sluggishness, lethargy, mucousy chest colds, and even spring allergies. Spring is also related to the Liver and Gallbladder so practices that help us "detox" are perfect this time of year.

Spring is a time to cleanse. When we break down and burn up the denser qualities that have built up over winter we can access the clarity and vitality spring offers.
Join me for this workshop and learn practical (and easy) ways to cleanse and purify in preparation for spring and summer.

We'll discuss how to create a healing spring diet, how detoxification works, which herbal medicines and spices to use this time of year, and some self-care practices and rituals to assist in spring cleansing. There will also be time for Q & A and you'll walk away with handouts and recipes you can use right away.
Live online class is on April 24th at 9am-10:30am PST (pacific standard time). A replay will be available if you can't attend live.
Hope to see you soon!

SIGN UP FOR WORKSHOP - Registration Open
Live Online Workshop April 24th 9am-10:30am PST
---
We take all major forms of payment and we use secure checkout 🖤

HOW IT WORKS:

---
This is a workshop held live on the online video platform zoom. After sign up, you'll be sent a link to join the class. You do not need a zoom account to watch and join.

What does this include?

1 spring cleansing live online workshop with Jennifer

Q & A with Jennifer

Downloadable handouts and recipes

Replay of live workshop

Access to an online portal where the replay and extra handouts are strored
What if I can't attend the live classes?

You can watch and practice along with the recording and you'll also be able to access the extra material in the online portal whenever is convenient for you.
Refund Policy:

Because this class will be taught live we will not be offering refunds. I think you'll love this workshop, but if you're unsure about my teachings please feel free to familiarize yourself with my work over on my website. Thank you!
More questions?

Please reach out through email with any other questions about whether this course is right for you. We're happy to help.
MEET YOUR GUIDE

---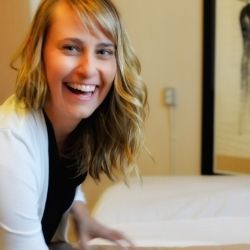 JENNIFER RAYE, TCMP, E-RYT 500
LICENSED TRADITIONAL CHINESE MEDICINE PRACTITIONER AND HOLISTIC NUTRITIONIST
Jennifer Raye holds a doctorate in Traditional Chinese Medicine and is a licensed practitioner, acupuncturist, and herbalist. She is also a holistic nutritionist, published author, an experienced yoga and meditation teacher.
Jennifer's offerings reflect her extensive and varied expertise in the fields of holistic and integrative medicine. In addition to her decade-long practice of Chinese Medicine, she has studied and practiced western phytotherapy (herbology), cleansing and detoxification, and Holistic Nutrition for nearly 20 years. She has studied functional medicine with The Institute for Functional Medicine and had the honor of studying holistic nutrition with Paul Pitchford (author of "Healing with Whole Foods"). Jennifer's background and training create a learning environment that is deeply informed and instructive.
Jennifer's teachings emphasize true self-care and a deep respect for the beauty and magic of the natural world. She has worked with thousands of students and clients all over the world, and teaches classes, retreats, and teacher training, locally and internationally. She has also been faculty at a number of educational institutions in addition to running her private medical practice.
For more info about Jennifer visit: jenniferraye.com