LIVE ONLINE
---
Mindful Yin Yoga Teacher Training
---
100 Hour Training
---
Become Certified and Deepen your Study of Mindful Yin Yoga
Whether you're an experienced yin yoga teacher looking to continue your yin yoga education, or you simply want to deepen your personal practice, this in-depth 100 hour training will take your yin yoga study to the next level with inspiring new topics of study, a solid framework, and personalized guidance.
This comprehensive training runs over the course of one year. It covers a vast array of topics relevant to yin yoga through a series of 7 training modules and an optional practicum.
This training is guided by Jennifer Raye, an experienced yin yoga teacher trainer, mindfulness teacher, and Traditional Chinese Medicine practitioner. Our yoga school is registered with the Yoga Alliance and is a continuing education YACEP provider.

Each training module is offered through a mixture of live online classes, pre-recorded lessons, and live Q&A. Each module also includes a detailed comprehensive manual.
---

---
This 100 Hour Training Includes 7 Modules & a Practicum:
---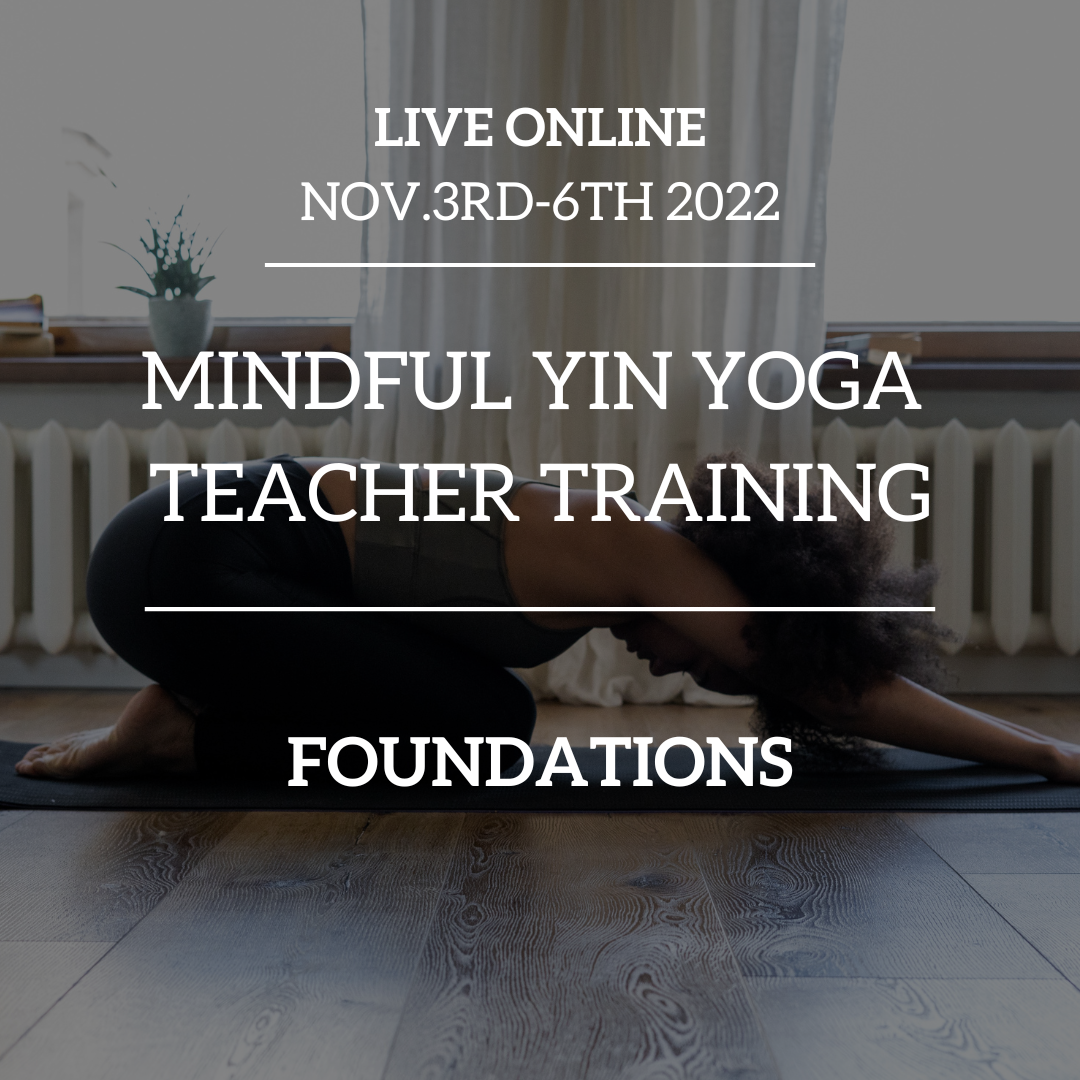 Foundations
REPLAYS and Pre-Recorded
This module covers the core principles of yin yoga practice including a breakdown of all major yin postures, modifications, variations, counterposes, props, yin yoga theory, contraindications, and sequencing. We will also briefly cover the Chinese Medicine meridians, five elements of Chinese and Taoist medicine, and the foundations for mindfulness.


---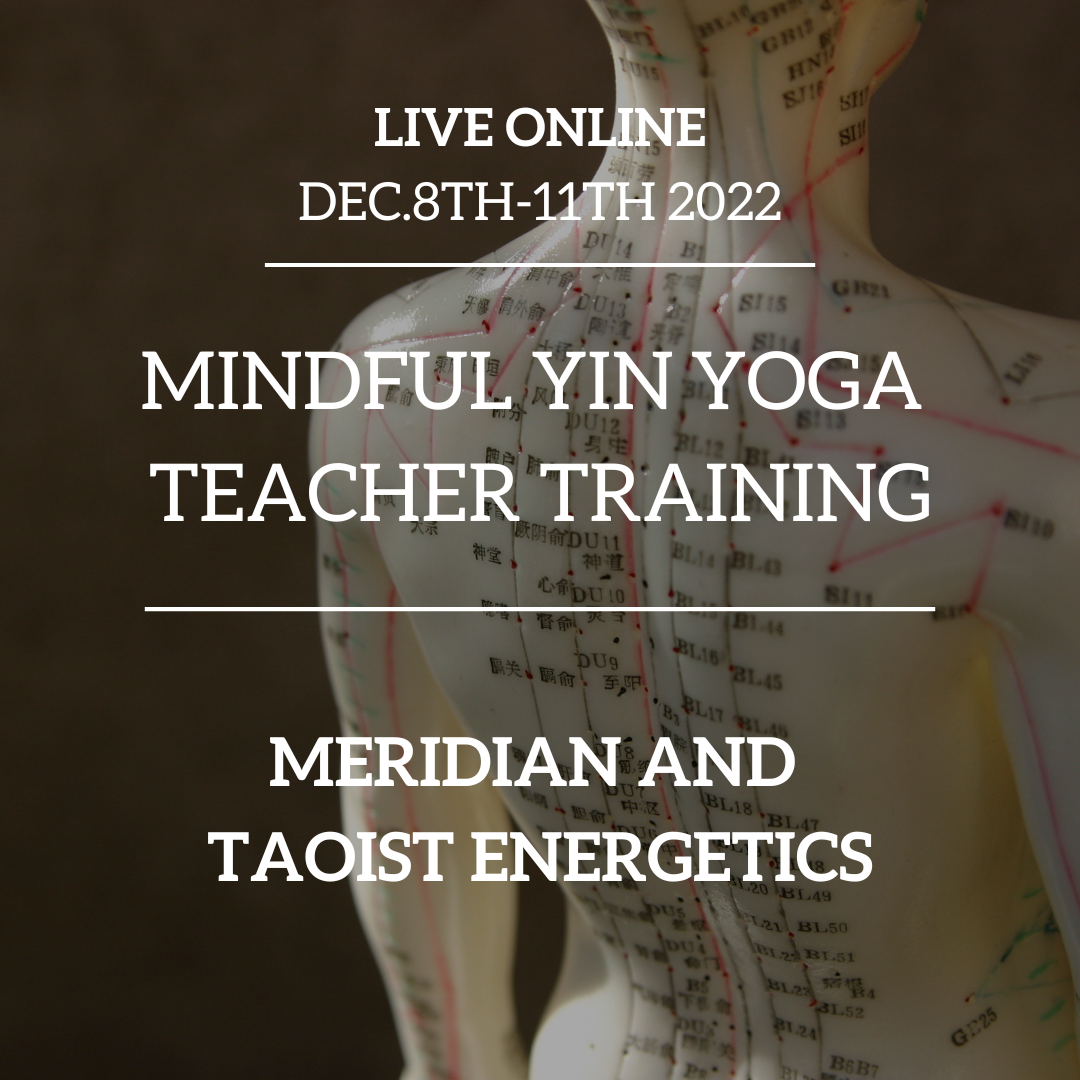 Meridian and Taoist Energetics
REPLAYS and Pre-recorded
This module covers Chinese Medicine theory as it relates to yin yoga practice. We'll cover in detail, the function of the subtle energetic body, including the three treasures (Qi, Jing, and Shen), and the vital substances (Blood, Body fluids etc.). We'll study the organs, meridians, and acupressure points in depth. You'll also learn speific yin yoga sequences and identify patterns based on the eight principles of Chinese Medicine.
---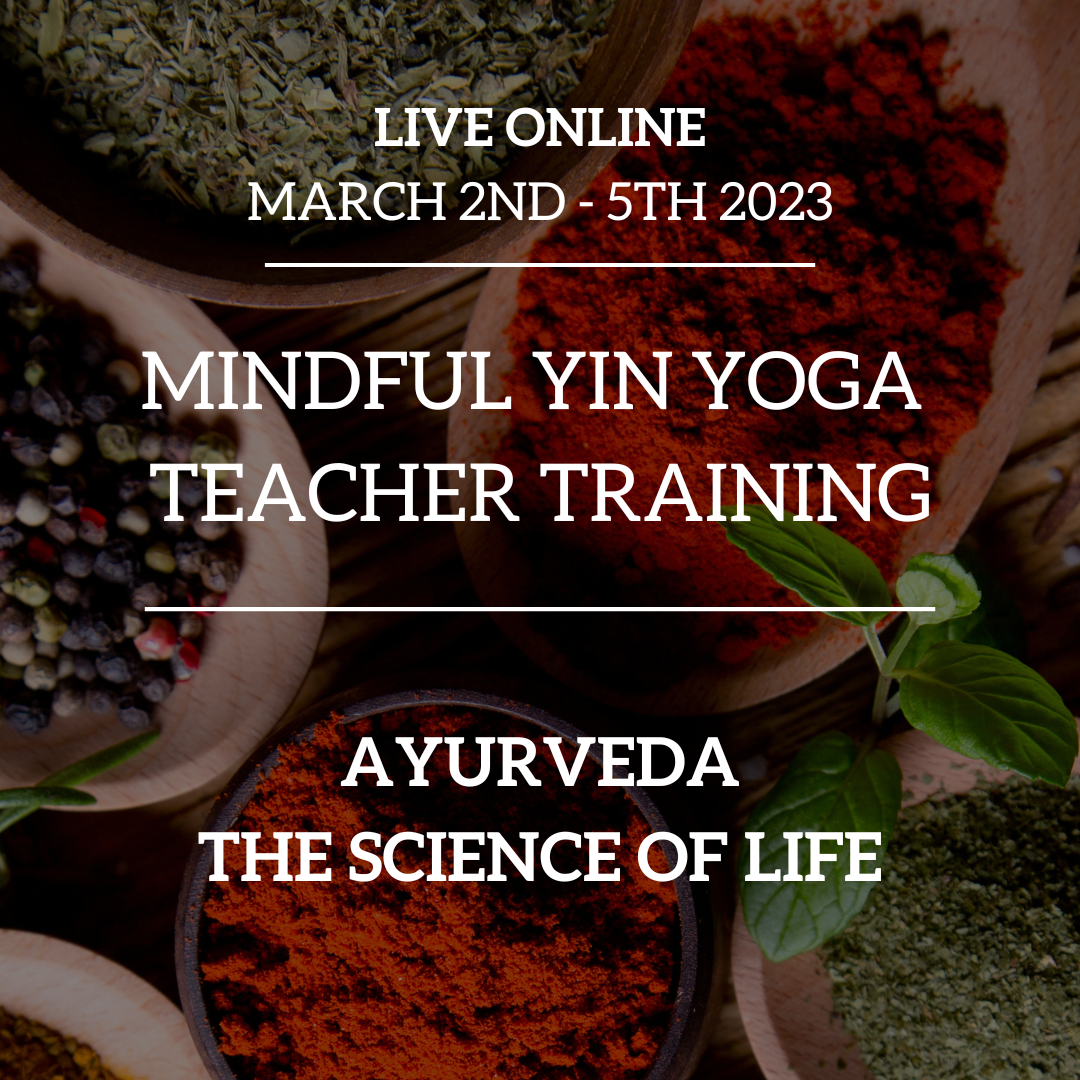 Ayurveda and Yin Yoga
REPLAYS and Pre-recorded
In this module we explore the profound insights of Ayurveda, the sister science and medical system of yoga. Examine gunas (qualities), dhatus (tissue layers), and vikriti/prakriti (constitution/imbalance), and relate this information to your yin yoga practice and teaching. We'll dive into personal wellbeing, and daily/seasonal habits all from the perspective of this "science of life".
---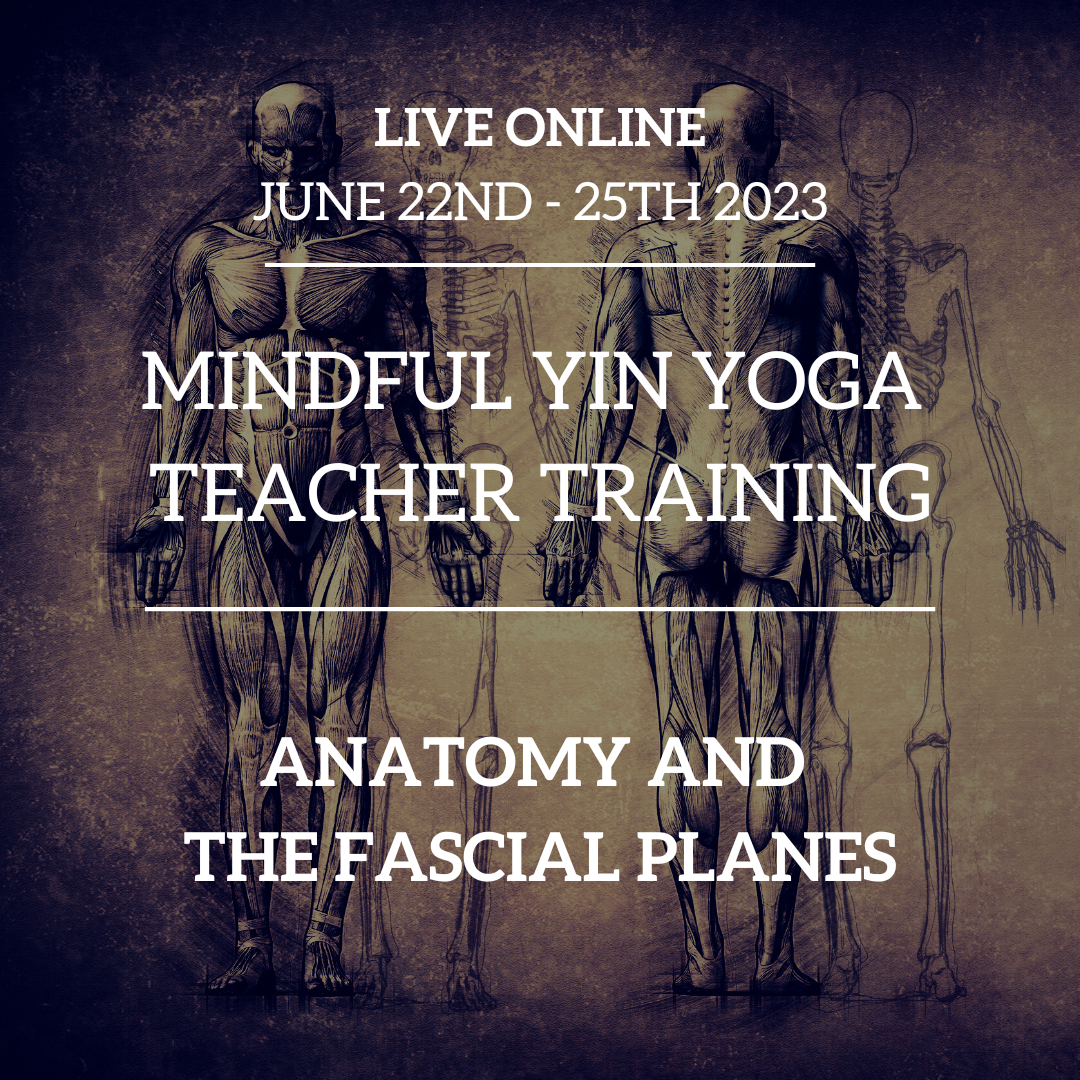 Anatomy and the Fascial Planes
LIVE - June 22nd - 25th 2023 (with replays)
In this module we'll investigate yin yoga anatomy and the myo-fascial planes of the body. These anatomical planes correlate with the energetic mapping of the body and are a wonderful way to understand how movements (including yoga postures) affect the physical structure of the body. These planes also provide a helpful map when working with the body therapeutically and addressing specific imbalances.
---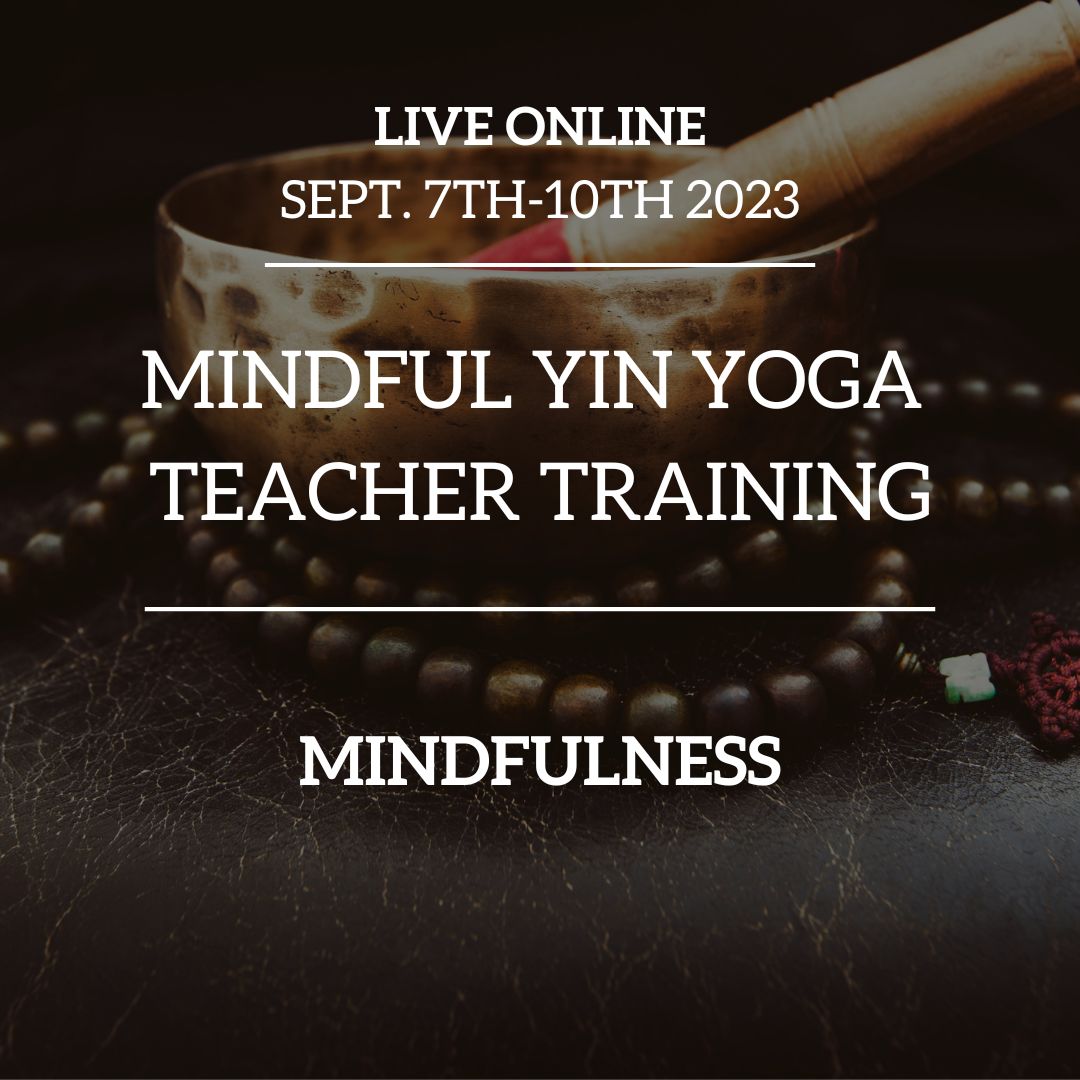 Mindfulness
LIVE - Sept.7th-10th 2023 (with replays)
This module covers practicing and teaching mindfulness as a part of yin yoga practice. Modern and traditional meditation techniques will be offered along with a thorough breakdown of the four foundations of mindfulness, and hindrances to practice. Students will learn to integrate the practice of mindfulness into their yin yoga teaching and study to create deeply healing and transformative classes.
---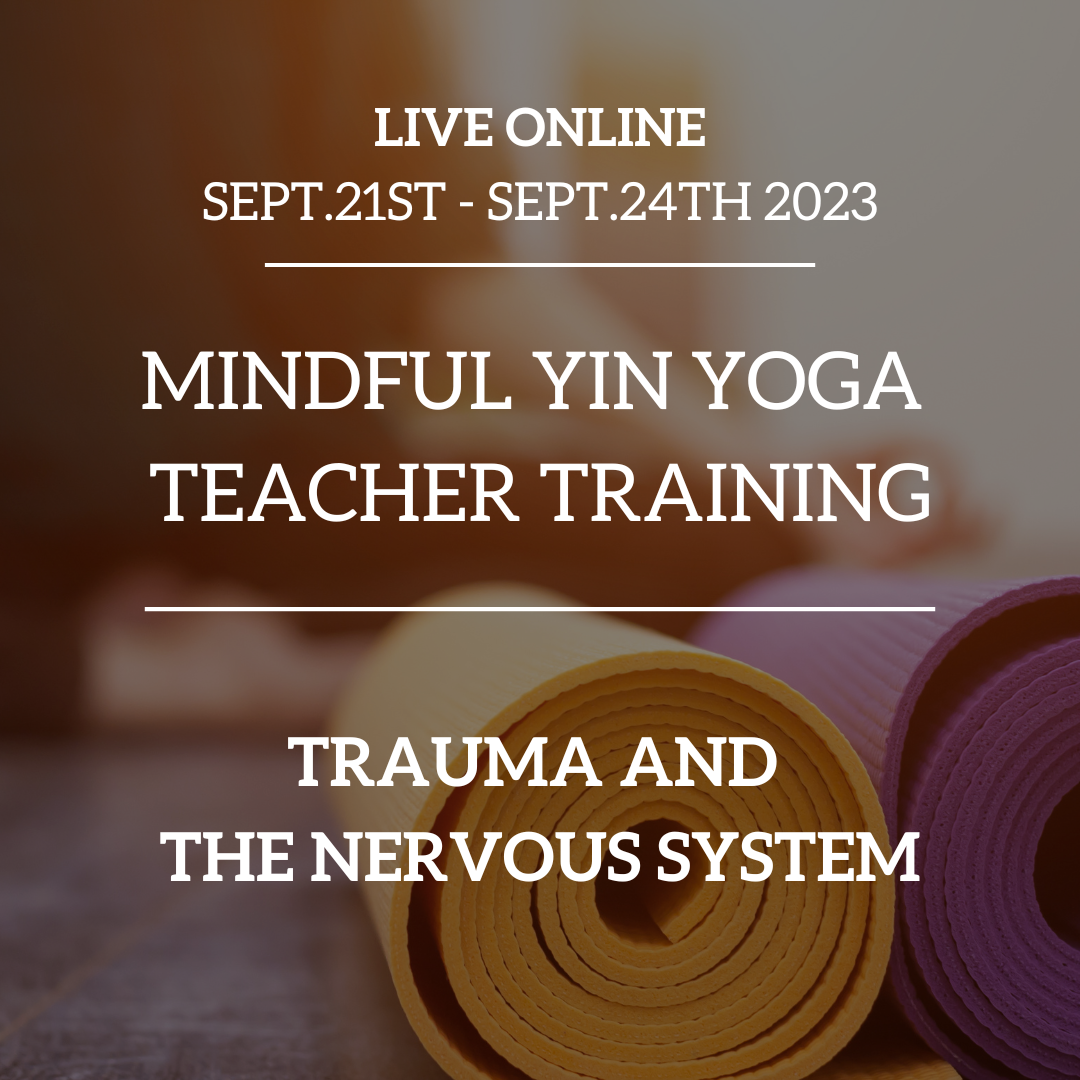 Trauma and the Nervous System
LIVE - Sept.21st - 24th 2023 (with replays)
This module examines the impact of trauma on the mind-body, vagus nerve, and nervous system as a whole. We'll look at how we can use our practices of yin yoga, mindfulness, and breathwork for healing. We will explore current research in psychology, somatics, and neurology, and look at when and how to bring these tools into your yin yoga practice and teaching.
---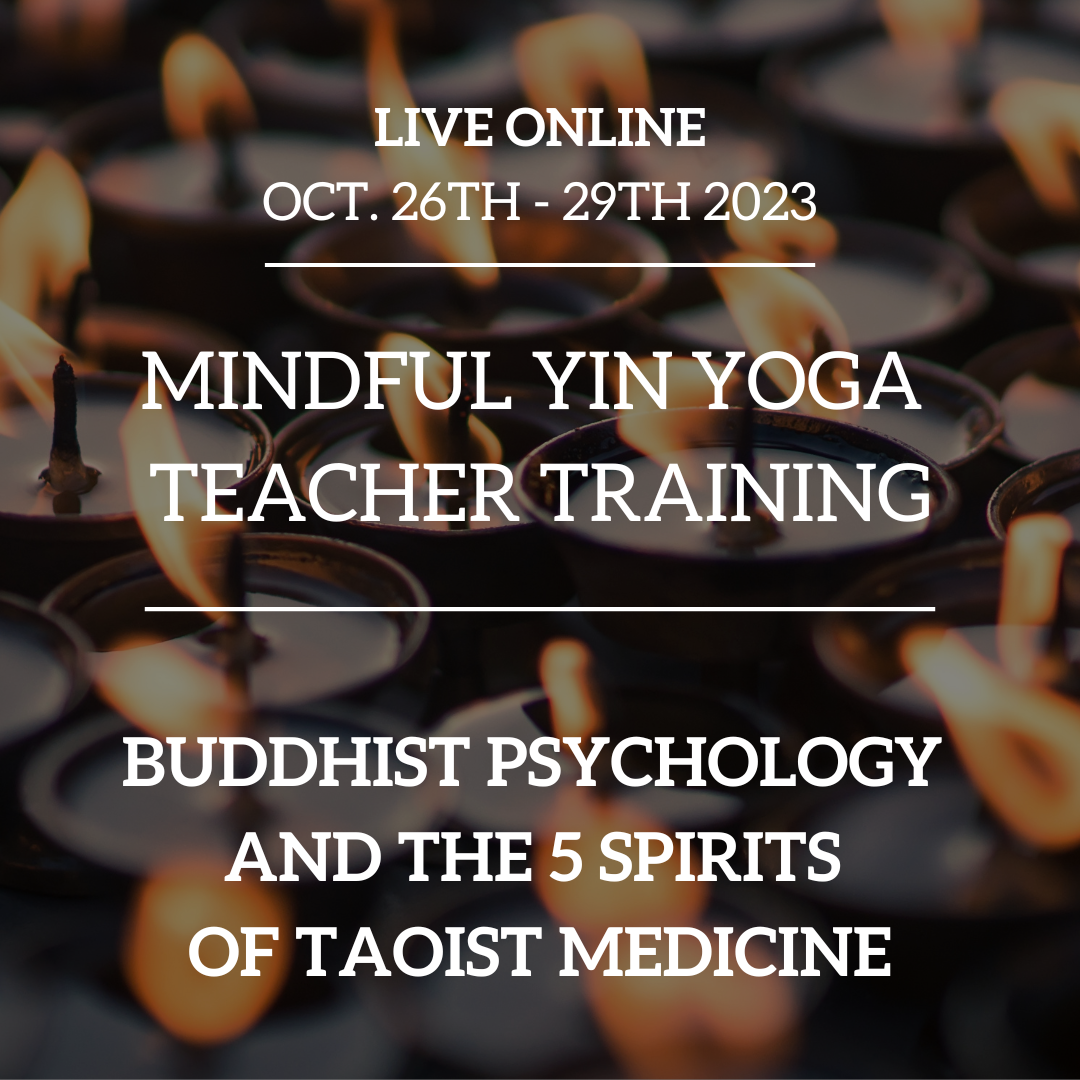 Buddhist Psychology and the 5 Spirits of Taoist Medicine
LIVE - Oct.26th - 29th 2023 (with replays)
In this module we'll cover Buddhism as a nuanced system of psychology, and the five "spirits" according to Traditional Chinese Medicine. These models provide a detailed map for psycho-spiritual self understanding, and they help to bridge the body, mind, emotions, and spirit within the yin yoga practice.
---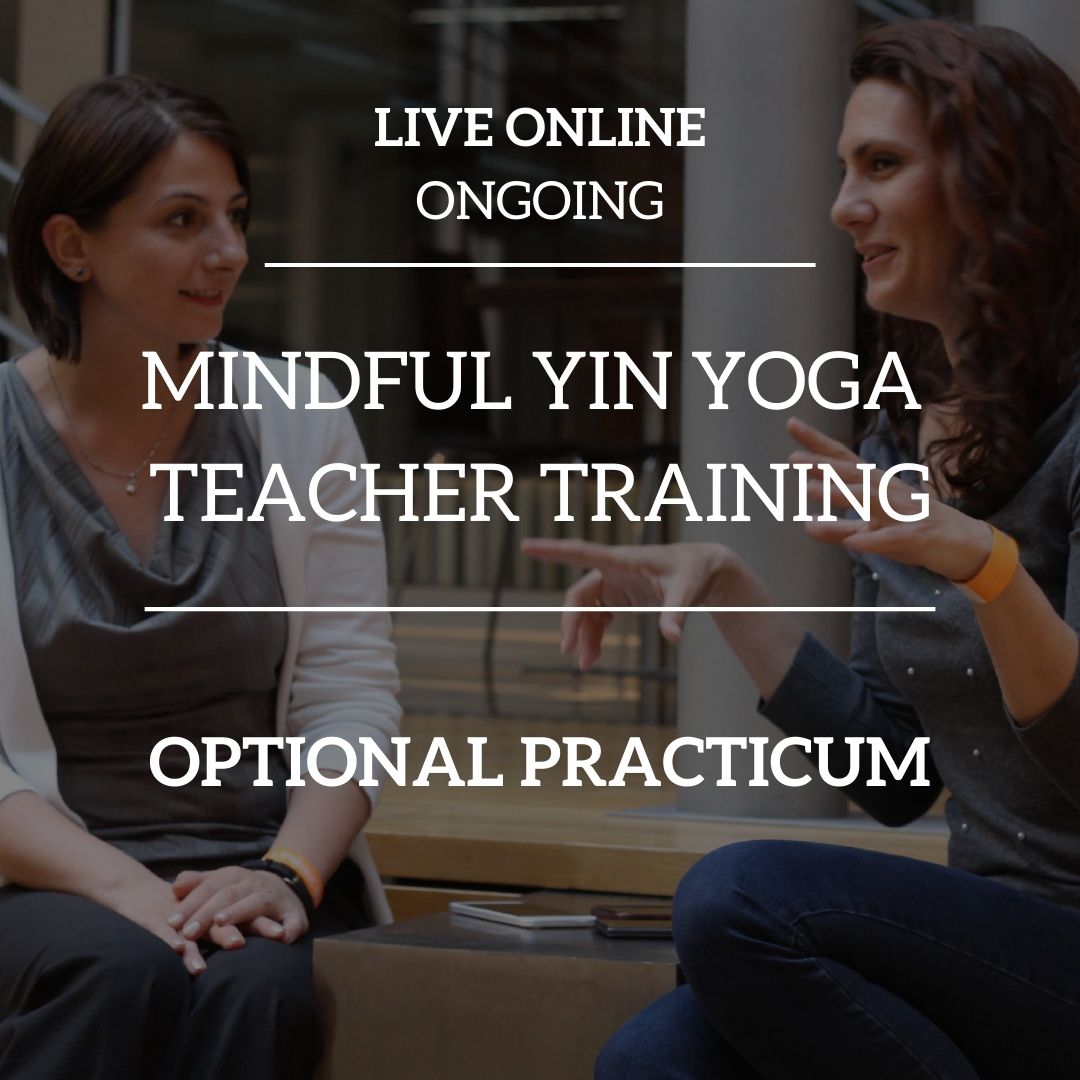 Optional Practicum
OPTIONAL
This module provides the final 10 hours of the 100 hour program for those wishing to receive certification.

The practicum includes one on one time over zoom with Jennifer, some time for reading and reflection, and a small self directed assignment.
---
Training Times and Dates:
Live online zoom class dates are listed under the indivudal modules above.
Live attendance is NOT required,
but is encouraged when you can attend.
TRAINING HOURS INCLUDE:
27 hours of pre-recorded lessons to be completed at any time
Downloadable manuals for each module (provided before each module begins)
7 hours live office hours with Jennifer
10 hour practicum including one-on-one with your lead trainer Jennifer Raye
56 Hours Live Weekend classes (see dates above - replays available for 1 year)

Thursday 6-8pm
Friday 6-8pm
Saturday 9am-12pm
Sunday 9am-11am
** Class times are in
Pacific Standard Time.
Find your timezone here.
---
Past students/grads of Jennifer's 30 Hour Mindful Yin Yoga online or in-person training: You are not required to take the foundations module in the 100 Hour. You have 2 options:

1) If you want a foundations refresher, sign up for the full 100 Hour training on this page (which includes the new foundations module taught live, and some pre-recorded material from your original training).

2) Sign up for only 70 Hours (does not include the new foundations module). To sign up for 70 Hours (only open to past grads) click here.
---
SIGN UP AND RECEIVE:
---
Access to an exclusive online portal which contains all of the course materials (pre-recorded videos, live class replays, downloadable manuals etc.)

LIVE ONLINE ZOOM CLASSES which will be a mix of slides, lecture, demonstrations, time for questions, and physical practice.
OVER 100 hours of VIDEO LESSONS on yin yoga, Ayurveda, Chinese Medicine, meridians, anatomy, trauma, breath practices, mindfulness, and more.
Detailed DOWNLOADABLE MANUALS for each module
ONE ON ONE TIME and lots of LIVE Q&A with lead teacher trainer Jennifer Raye
LIVE OFFICE HOURS CALLS
Access to a SUPPORTIVE AND INSPIRING COMMUNITY of teachers and practitioners
A 100 HOUR MINDFUL YIN YOGA CERTIFICATE and YOGA ALLIANCE CREDIT (or other organization) (100 CEU'S)
ACCESS to replays of live classes for 1 year after the live component

Full time access to a technical support team to help with any concerns

Very secure payment processing (SSL security certificate)
PAST STUDENTS FROM YIN YOGA TEACHER TRAINING:
---
"Jennifer is a master teacher with a great command of the topic, skill, and learning process. She demonstrates wisdom of knowing and integration of practice. The information was communicated in a clear concise way introducing very complicated theory/subject matter in simple, yet complete terms and context. The experiential nature of the learning process is captured in the audio and video practices. The visuals and sound are clear and Jennifer executes each lesson in a relaxed, aligned and easy to follow way. Yes, I recommend this course!
I absolutely loved Jennifer's course! Her approach to Yin was beautiful and she provided more information than I expected to receive. Not only that but her suggestions for what to take a deeper look into to expand the practice were inspirational.
I am happy that continued access to the course is available since it was overflowing with details. I can only imagine how reviewing it again in the coming weeks and months will only strengthen my practice and teachings. One of the things I appreciated most about the course is how many variations Jennifer provided for each pose. It will really come in handy since my students are mostly beginner and less flexible. It will allow me to teach in a way that is accessible to all levels, which will certainly help me feel more confident as a teacher. If you are considering learning Yin, I highly recommend you start with this. Jennifer is an incredible teacher and I am so grateful I came across her course!"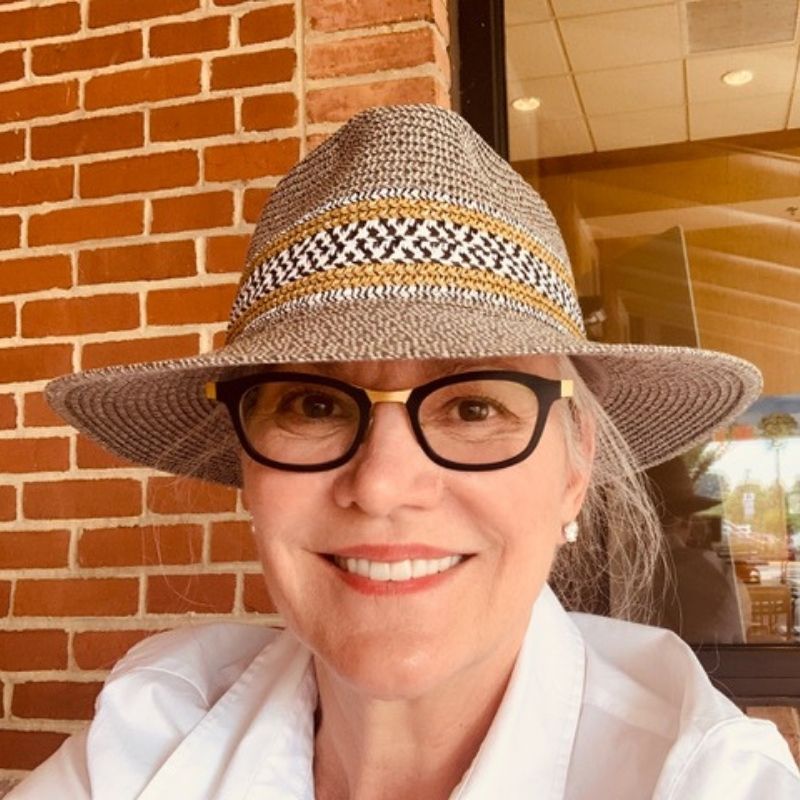 Catherine Goodrum
Yoga and Mindfulness Teacher, Studio Owner, Health Coach, Florida, USA
"I would absolutely recommend this course. Jennifer is an exceptional teacher who brings many years' of experience to her students. She fully embodies her teachings and is someone I would study with again in the future. The specific feature I liked best about the course was the knowledge of the teacher and her ability to expand my understanding of Yin yoga. My personal practice has changed. I now better understand and value the importance of sustained holds in the poses and the integration of proper breathing. Thank you. Namaste & Metta!""
"I would recommend this course. I feel like I learned more for mindfulness practice in general and inspiration to work with meridians when teaching yin. It's a lovely, thought-out course with not only yin, but with great info on mindfulness and meridians. I also like that I could download the pdf's, audios & videos and that you have a background in TCM ...that's what drew me to your training."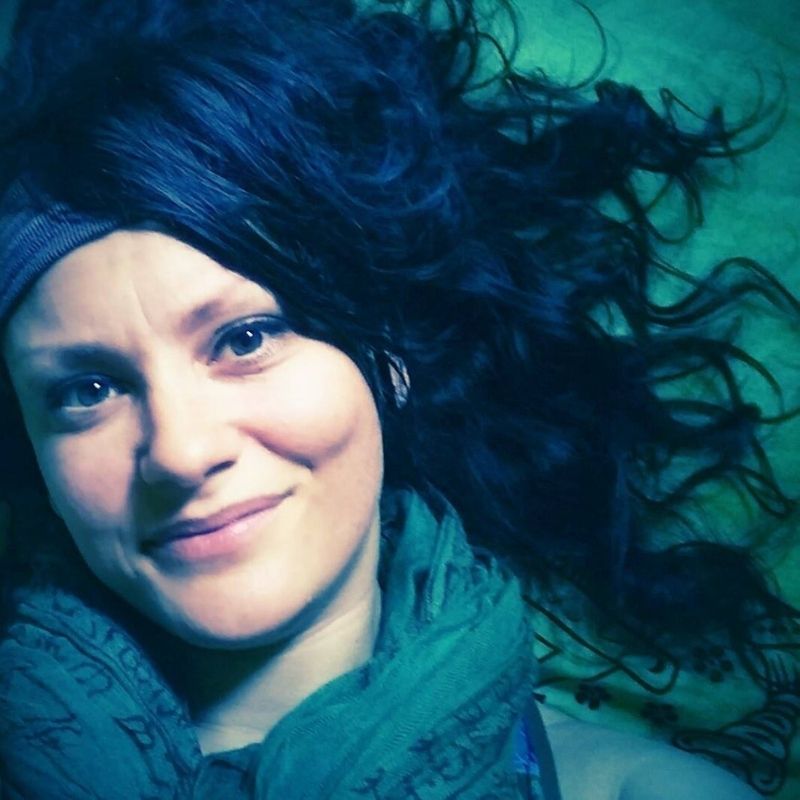 Amy Pendley
Licensed Massage Therapist, Registered Yoga Teacher, Tennessee, USA
JOIN THE 100 HR YIN YOGA TEACHER TRAINING
REGISTRATION OPEN! Space is limited to ensure a personalized experience for all who attend.

Canadians - If you would prefer to make full payment with an etransfer please email us at [email protected] and we can arrange.
---
We take all major forms of payment and we use secure checkout 🖤
WHAT MAKES THIS TRAINING SPECIAL?
---
As a Chinese Medicine practitioner/acupuncturist, and highly qualified long-time mindfulness and yin yoga teacher trainer, your lead trainer Jennifer Raye offers in-depth guidance, and an integrative approach, rooted in real-world experience and recognized credentials.

Small group with lots of opportunities to get your questions answered including optional live calls between modules, and the opportunity for one-on-one time with your teacher Jennifer.

A big variety of unique topics covered (see above)

Private facebook group to connect with community

Each tra

ining module includes downloadable manuals, pre-recorded videos, live zoom classes, and live office hours. Recordings are available so you can return to the material as much as you want.

Plus so much more! Reach out to [email protected] with any questions you have.
MEET YOUR GUIDE
---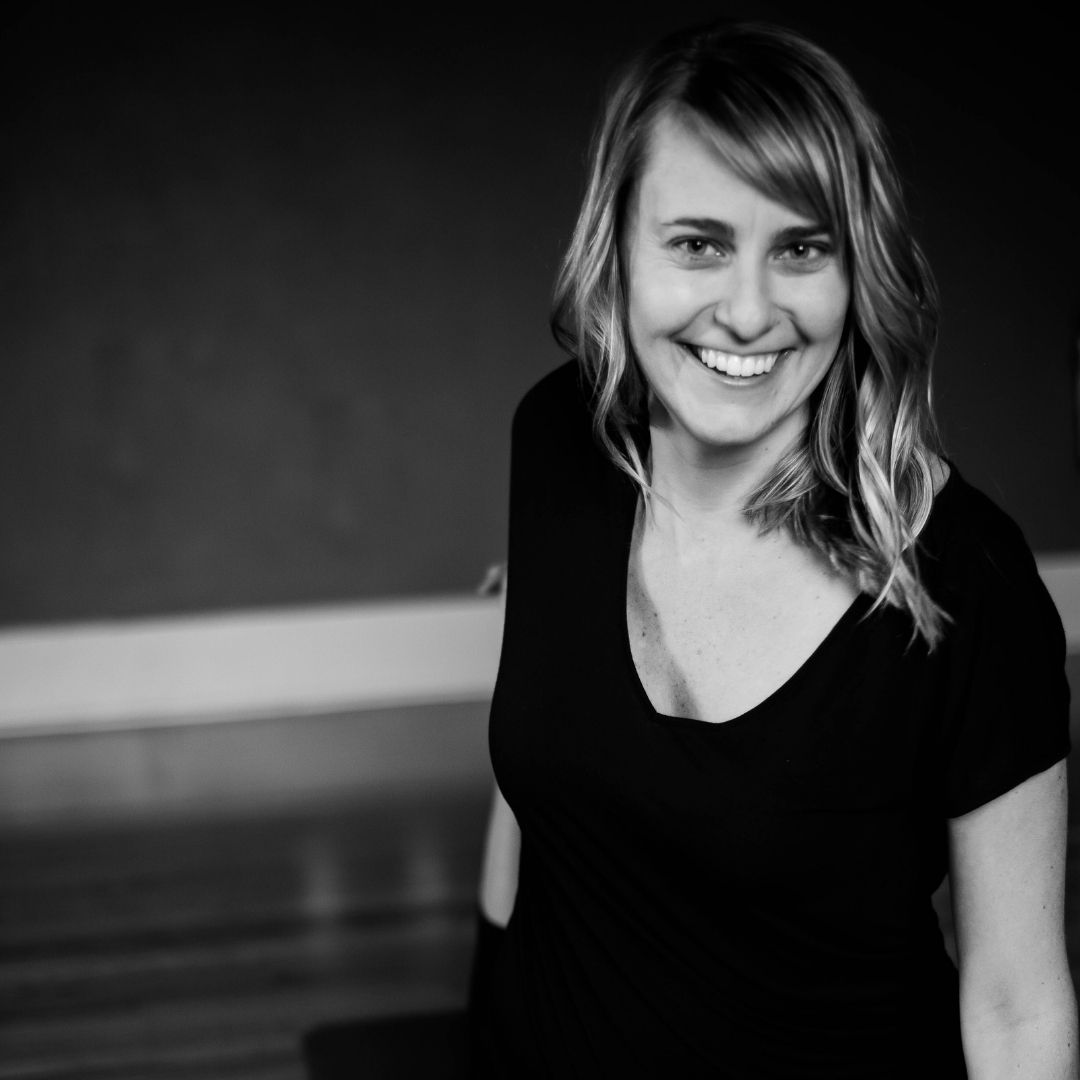 JENNIFER RAYE, R.TCMP, E-RYT 500+
EXPERIENCED YOGA AND MEDITATION TEACHER TRAINER AND LICENSED TRADITIONAL CHINESE MEDICINE PRACTITIONER
Jennifer has been teaching yin yoga for over a decade in addition to over 17 years in holistic medicine. She is a highly qualified yin yoga and meditation teacher trainer with thousands of hours of training. She also holds a doctorate in Traditional Chinese Medicine and is a licensed practitioner, acupuncturist, herbalist, published mindfulness author, and holistic nutritionist.
Jennifer is an experienced teacher that has been teaching in-person and online for over 15 years. She has been faculty at a number of educational institutions and has worked with thousands of students and clients all over the world. Her offerings reflect her varied expertise in the fields of contemplative practice and integrative medicine and her extensive background and training create a learning environment that is deeply informed and instructive.
Steeped in the wisdom of Buddhist mindfulness and deep respect for the beauty and magic of the natural world, Jennifer's teachings emphasize true self-care and are holistic and therapeutic.
Currently she teaches classes, retreats, and teacher training related to yin yoga, therapeutic movement, anatomy, Chinese Medicine, herbal medicine, seasonal wellness, and mindfulness, along with running her private medical practice.
For more info about Jennifer visit: jenniferraye.com
FREQUENTLY ASKED QUESTIONS:
---